Cleaning tools for baby from 6 months to 3 years old
Cleaning tools for baby from 6 months to 3 years old
A baby 6 months to 36 months old is a toddler. The toddler years are a time of great cognitive, emotional and social development. At this point, to make a habit for children, we should get potty training for them instead of using diapers. And a difficulty for parents is cleaning for baby after pooping.
 Old tool – baby wipes is outdated
Baby wipes are a necessity for parents, as they come in handy when you need a quick cleaner-upper. They're convenient to take on the go – not only for diaper messes, but also for sticky hands, faces…. Up to this point, we always assumed they were completely safe to use.
Until now, according to NBC News, a study has surfaced that confirms baby wipes aren't safe to use on your children due to one key ingredient. The results of the tests conducted were worrisome, as children ended up having a reaction that left them with itchy, scaly, and red-rashed looking skin.
Methylisothiazolinone has been found in many of the popular brands such as Johnson & Johnson, Cottonelle, and Huggies to name a few. Now that this chemical is becoming a health and safety concern for children.
Have you thought about stopping using baby wipes?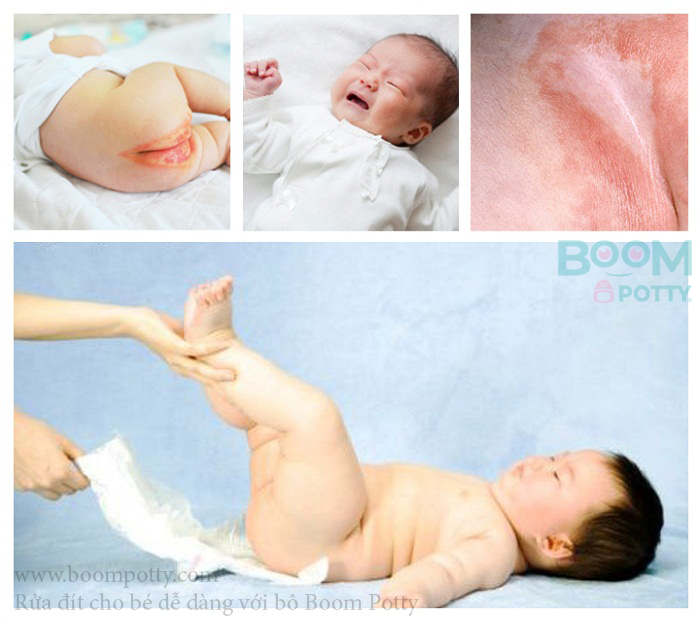 A new cleaning tools for baby from 6 months to 3 years old
Washing baby's bottom with water – a safe solution. Boom Potty is the best choice for cleaning baby bottom nowaday.
1.     Design of Boom Potty
The Potty has annatomical contour which help hold and elevate baby. The baby can sit firmly without further supports from parents. Parent are hands free to clean for the baby.
The opening in front helps access baby's bottom and clean easily.
The potty can be placed directly on toilet bowl. Poop and waste water flow directly into toilet, it's very hygienic.
Anatomical contour of the potty to mimic a natural and healthy squat.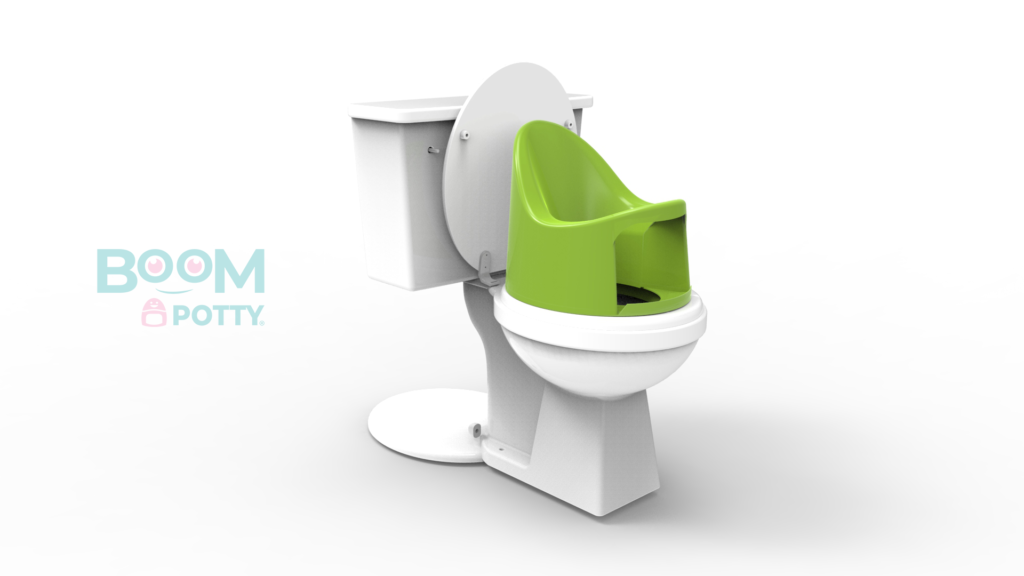 2.    How to wash and clean your baby's bottom with Boom Potty?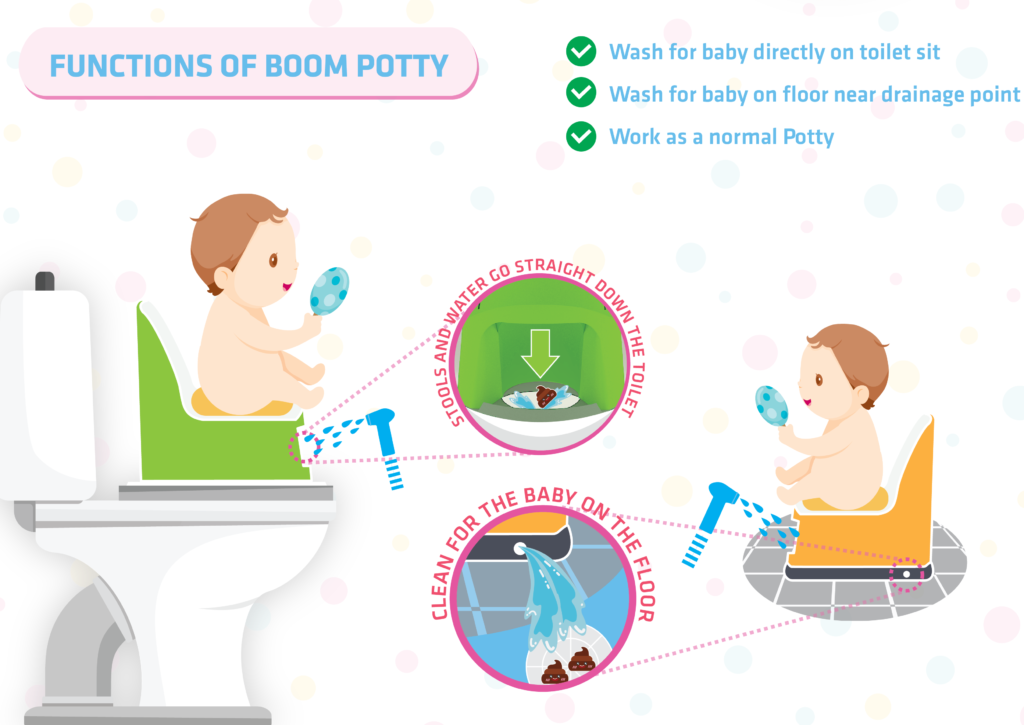 It's clean to use the shower or bidet to clean instead of baby wipes.
The dirt will flow into the toilet.
After, using a clean towel to dry baby
Wash your hands well.
   It is very simple! You have finished a difficult task.
3.     Why should you use Boom Potty instead of wipes?
Not to spend money on wet tissue any more.
Not to struggle in difficult position, hold and wash.                                              
Wash the baby directly on toilet's sit.
Work as normal Potty.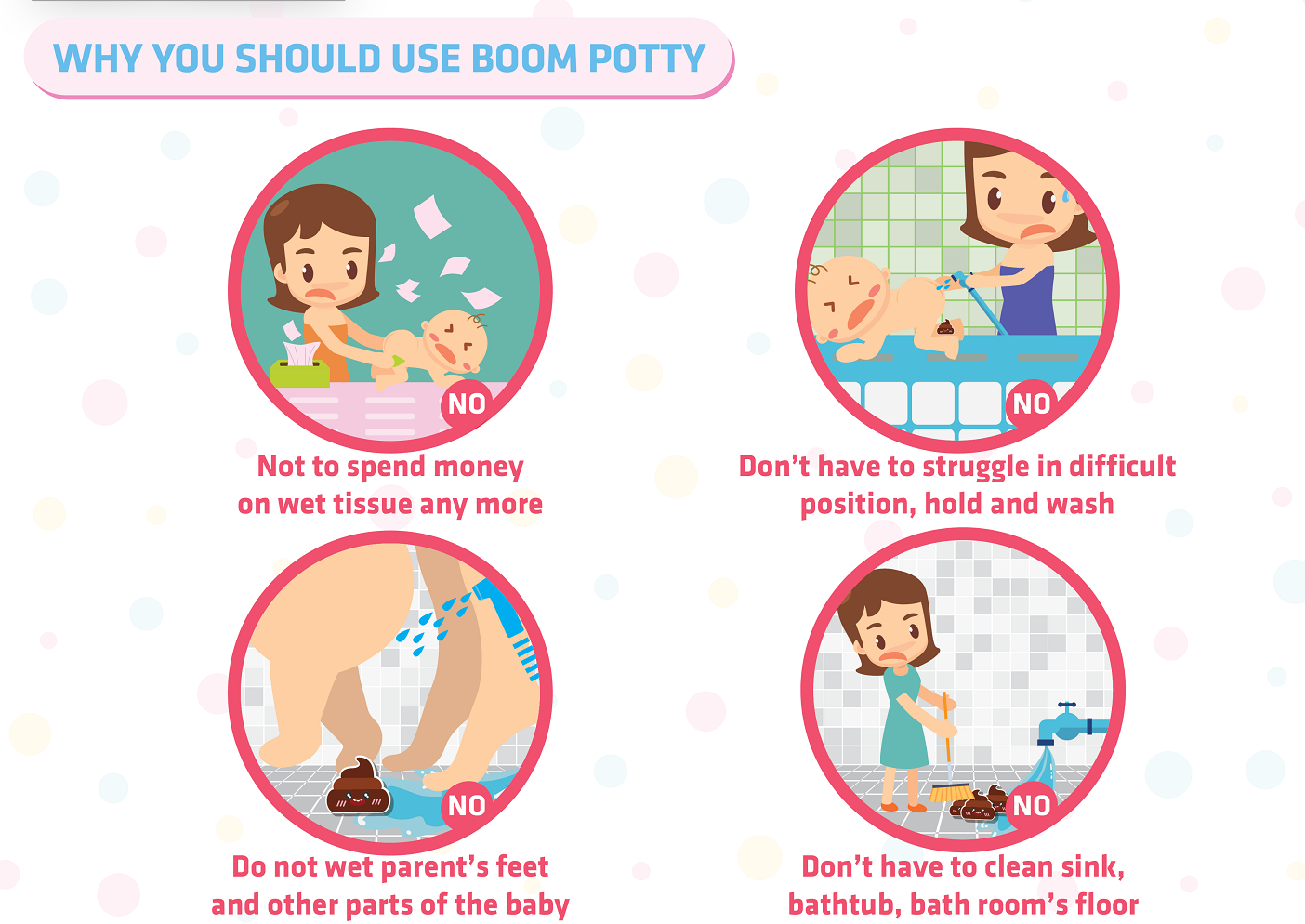 Click through our website: http://boompotty.com/en/blog/  to look for more information:
Boom Potty is a new product with more breakthroughs than the old products on the market. Boom potty helps parents easy to clean baby's bottom. 
Read more:
How to clean a toddler's bottom
How to clean baby bottom without wipes
Easy way to wash your baby bottom by Boom Potty
Tool for cleaning baby after pooping by water